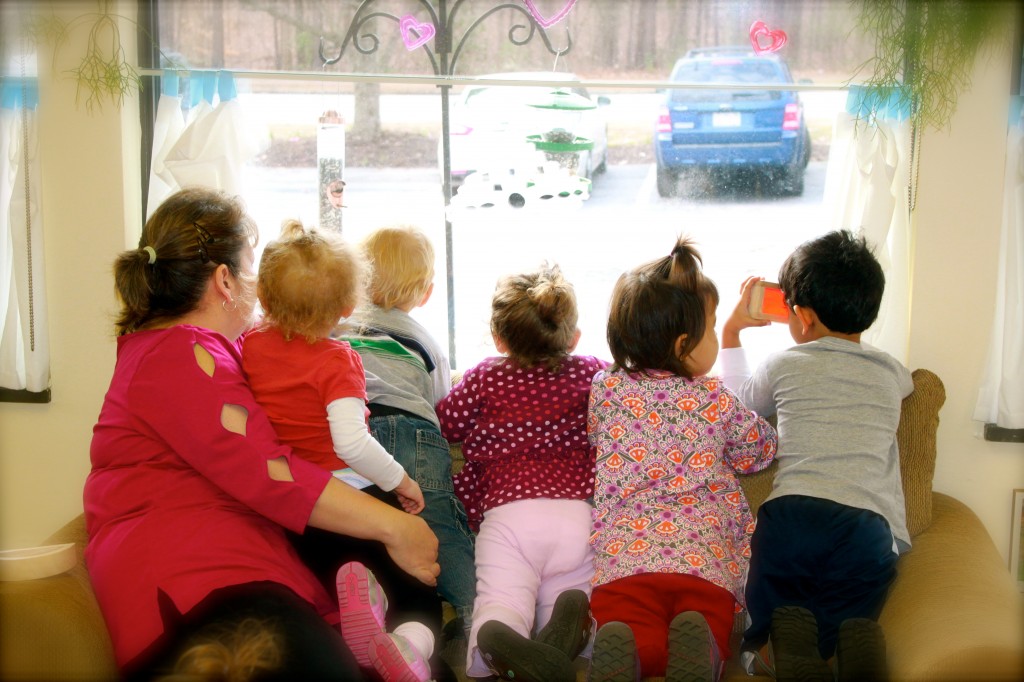 Maria Montessori recognized the toddler period as being centered on rapid cognitive and physical development. This happens as they absorb knowledge from the world around them and strive for independence. The focus of our Montessori toddler classroom is "to learn through living and loving in each moment." It is our goal to help facilitate your child's development and help fulfill their desire to "do things themselves."
Our teachers understand the incredible development that occurs between birth and three years, and how young children learn by experiencing their surroundings through all of their senses. We will give them a wide scope of opportunities to explore and experience various textures, sights, smells, sounds, and tastes while also practicing skills of daily living (i.e. cleaning up, preparing snack/lunch, independent toileting, dressing, washing hands, etc.) in order to help them develop independence.
Our toddler room provides an environment in which the children explore responsibility and freedom within limits. Our teachers work with the students, as they are ready, to master the skills of toilet learning as they are reinforced at home. For more information on toilet learning the Montessori way, please request our guidebook.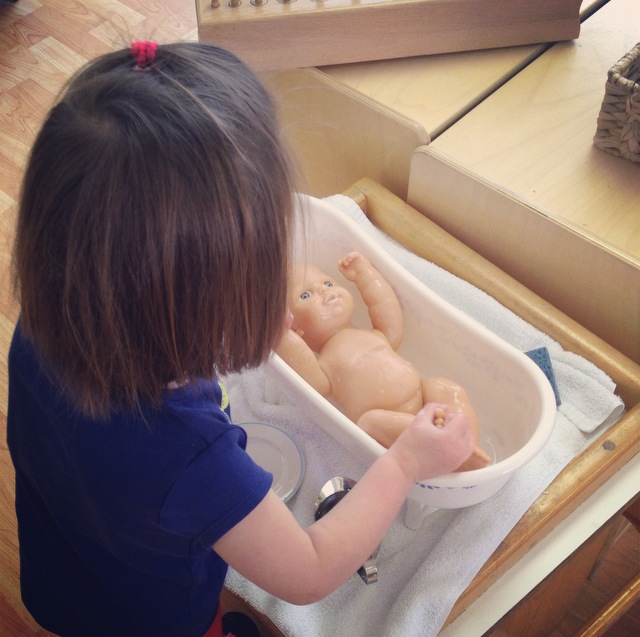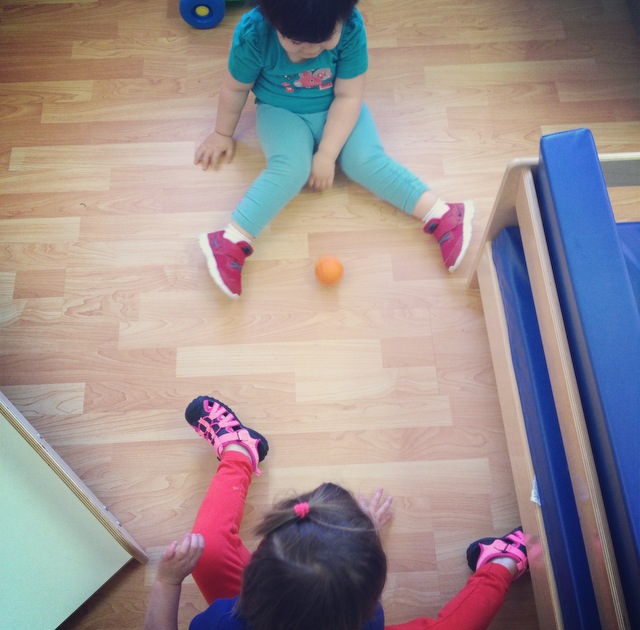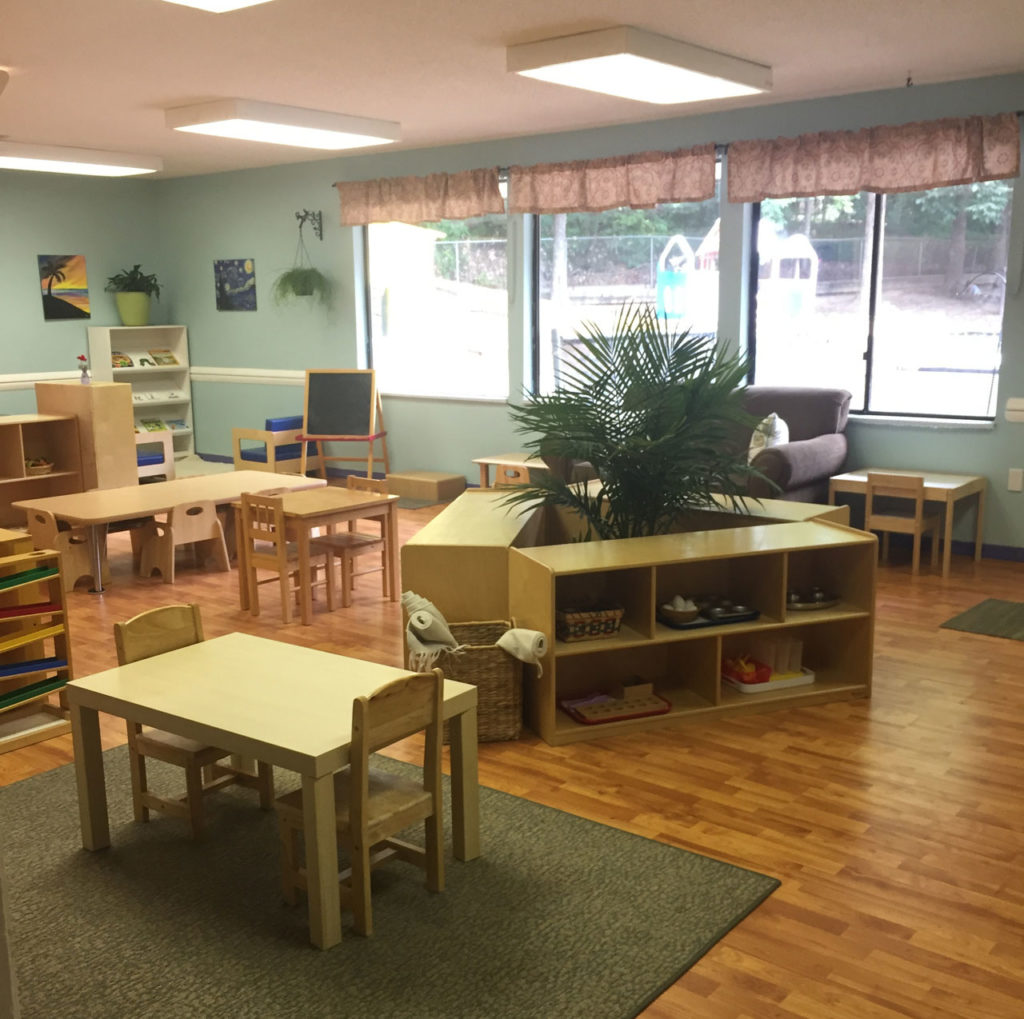 "To assist a child we must provide him with an environment which will enable him to develop freely."
Maria Montessori
The Toddler room at a glance:
Children 18 months to 3 years
Options for 2, 3, 4 and 5 days per week
Options for half, full and modified extended days through 6:00
The toddler room staff is committed to:
Working together to ensure that every child in our classroom receives warm, loving care and a safe and enriching learning environment that supports your child's development.
Treating each child with respect and dignity as they develop as unique individuals.
Building a strong, trusting, and caring relationship with you and your child so we may all feel safe and secure in the classroom.
Providing the children with a safe, clean, and nurturing environment that is sensitive to their needs and promotes positive interactions between all caregivers and children.
Following and adhering to all school, county, and state regulations to ensure the sanitization and safety of the classroom environment.
Carefully observing each child, thoughtfully interacting with them when appropriate (as to not interrupt their own learning process), and offering them individual and group lessons in order to meet their needs and maximize their learning potential.
Working collaboratively with parents in an effort to ensure continuity of care for you and your child.
Providing meaningful learning opportunities for the children's cognitive, emotional, social, and physical development in both English and Spanish
Honoring and respecting each child's learning process and supporting it by whatever means possible.

Space is limited!  Please contact us to schedule a tour of the Toddler Program and to learn more about how we incorporate the Montessori philosophy, the Spanish language and more.
Developmental Readiness:  Setting your child up for success in the Toddler room
You may be considering enrolling your young child in her first school program.  Please consider the following factors as you begin your school search:
Do you feel comfortable separating from your child?  Parents are encouraged to establish a predictable routine in the morning and to say goodbye to their children at the door, allowing them to enter on their own.
Are you ready to maintain consistency at home?  The teachers in the Renaissance Toddler room have the goal of guiding the children toward independence.  This means that they will encourage the children to feed themselves, for instance.  Likewise, they will encourage the children to help with the diapering process, such as bringing a clean diaper from their cubby to the teacher and washing hands after.  Older students are encouraged to dress themselves during the toileting process.  Parents who find the most success in an early childhood program such as this are ones who maintain consistency at home.  If a child is in underwear at school, he will also be in underwear at home–not a diaper or training pant.
Are you able to attend educational and volunteer events?  At Renaissance we provide learning opportunities for parents on a regular basis.  It is in this setting that parents learn more about the independent toileting process, the cognitive phases of young children, setting realistic boundaries at home and more.  We also ask that parents volunteer their time at or for the school.  These events also allow parents to network.  While a typical daycare would not require this of its parents, we feel that a strong community is directly linked to healthy families and children.